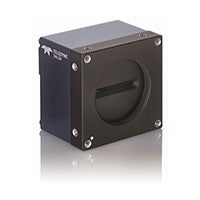 Need to Purchase Multiples? Call Us for a Custom Quote at (866) 339-4625
Linea Color 2k GigE
The new Linea Color line scan cameras deliver the exceptional performance and features found in Teledyne DALSA's current lineup of high-end cameras at an unprecedented price point.
Based on bilinear color CMOS technology, the Linea Color GigE cameras has a 2k or 4k, 7.04 μm x 7.04 μm pixel array, and a line rate up to 26 kHz. With excellent sensitivity and speed,
Linea Color surpasses the requirements of demanding applications—such as food sorting, materials grading, web inspection, and general purpose machine vision.
The Linea Color cameras come complete with many attractive features, including configurable GPIO ports, Burst Mode and Meta Data per each line. The GigE models provide multiple ROI, and multiple user and calibration coefficients sets for various lighting conditions.
Our proprietary, patent pending, TurboDrive technology delivers high speed data transfer capability that breaks through the GigE limit. TurboDrive boosts data transfer speeds compared with standard GigE Vision speeds – with no loss of image quality.
Looking for Lenses, Cables or Lighting? Call (877) 422-3390
---
We Also Recommend