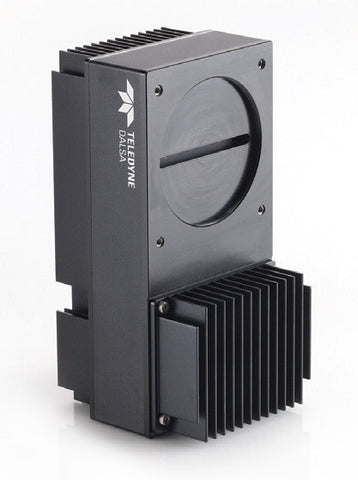 Need to Purchase Multiples? Call Us for a Custom Quote at (866) 339-4625
Piranha HS Mono 12K HSLink
Piranha HS Series: Piranha HS 12K, 90khz
12k resolution, 1.08 gigapixels per second throughput, and a fast 90 kHz line rate.
The Piranha HS 12k high sensitivity camera heralds a breakthrough in TDI digital imaging technology. With a maximum line rate of 90 kHz, a throughput of 1.08 gigapixels per second, and 12,000 pixel resolution, the Piranha HS 12k camera provides optimal system performance in a compact form.
Using Teledyne DALSA's new interface technology, this HS 12k camera is the first standard product in the marketplace capable of transmitting over 1 gigapixel throughput.
All models are capable of bidirectional operation with up to 256 stages of selectability, while preventing overexposure with antiblooming features. Camera configuration is flexible and all software is controllable.
If you need maximum performance in low light, you need to look at a Piranha HS.
HSLink
The HSLink interface is a new machine vision connectivity interface pioneered by Teledyne DALSA. HSLink is designed specifically to meet the needs of all machine vision applications and therefore carries image data, configuration data and low jitter, real time triggering signals over a simple network topology supporting cameras, intermediate devices and frame grabbers. The interface has taken the key strengths of Camera Link, and added new features and functions. HSLink delivers scalable bandwidth of 300 to 6000 Mbytes/s, 1x to 20x configurations while using globally available, off-theshelf components.

FEATURES
12000 pixels
Max 90 kHz line rate
1080 megapixels/second
Responsivity 300 DN/(nJ/cm̴_) @ 0 dB
Bidirectional
Antiblooming
HSLink interface
Resolution: 12000 x 256 pixels TDI
Data Rate: Up to 1.08 Gpix/s
Max. Line/Frame Rate: 90 kHz
Pixel Size: 5.2 ÌÇ_m x 5.2 ÌÇ_m
Data Format: 8 bit
Output: HSLink
Lens Mount: M72 x 0.75
Responsivity: 300 DN/(nJ/cm̴_) at 0 dB, 8 bit
Dynamic Range: 500:1
Nominal Gain Range: 0 dB to 20 dB
Size: 180 mm (H) x 90 mm (W) x 92.1 mm (D)
Mass: < 1500 g
Operating Temp: 0 ̴åÁC to 50 ̴åÁC
Power Supply: 24 VDC
Power Dissipation: < 39 W
Regulatory Compliance: RoHS and CE
Control: HSLink
Data: Shared with Control
Power: Lemo 2 pin
Looking for Lenses, Cables or Lighting? Call (877) 422-3390
---
We Also Recommend