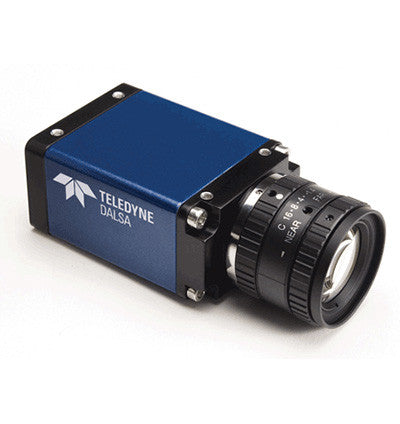 Need to Purchase Multiples? Call Us for a Custom Quote at (866) 339-4625
Genie M1280 - 1/3
The Genie M1280 uses a Sony monochrome CCD sensor with a resolution of 1280 x 960. Operating at 24 frames per second at full resolution, this Genie takes advantage of gigabit Ethernet technology, transmitting data over standard CAT-5e and CAT-6 cables to distances of up to 100m. Like all Genie cameras, the C1280 is based on AIA (Automated Imaging Association) GigE Vision Standard to directly link the camera to a PC.
Software Support
All Genie cameras are supported by Teledyne DALSA-s Sapera‰̣ۡå¢ LT software libraries featuring CamExpert for simplified camera set-up and configuration. Sapera LT has been field proven in tens of thousands industrial applications. Hardware independent, Sapera LT delivers the same reliable performance regardless of the image acquisition device being used. This unique feature allows OEMs to start using the Genie without re-writing the application. In addition, Sapera LT includes powerful diagnostics and setup utilities for application development, custom camera configurations and system deployment.
Teledyne DALSA Platform Development Advantage - Free Run-Time Licensing
The Sapera Essential standard processing tool run-time license is offered at no additional charge when combined with the Teledyne DALSA frame grabbers. This software run-time license includes access to over 400 image processing functions, area-based (normalized correlation based) template matching tool, blob analysis and lens correction tool. Some conditions and limitations apply, contact Teledyne DALSA sales for details.
Uses standard PC and server Ethernet ports & hardware

Supports cable lengths up to 100 m (CAT-5e or CAT-6)

Simplified set-up with field proven Sapera Essential software featuring CamExpert

Engineered to accommodate industrial environement with a ruggedized, screw mount, RJ-45 connector

Small compact form factor

Higher frame rates with vertical windowing

Engineered with Teledyne DALSA-s Trigger-to-Image Reliability framework

GigE Vision compliant

Options for C or CS-Mount lenses

Also available with Right-Angle lens mounts

12 to 24 Volt DC
Looking for Lenses, Cables or Lighting? Call (877) 422-3390
---
We Also Recommend