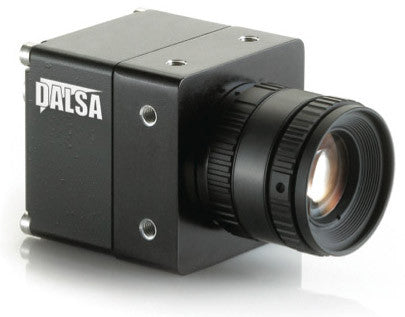 Need to Purchase Multiples? Call Us for a Custom Quote at (866) 339-4625
Falcon VGA300 HG
Falcon HG Series: Falcon VGA300 HG

Teledyne DALSA's new Falcon HG camera series is epitomized by the Falcon VGA300 HG camera -  an incredibly fast, highly responsive camera. The VGA300 HG is a monochrome CMOS camera delivering 300 fps and optimized for high sensitivity.
By combining high frame rates, good image quality and multiple resolutions the Falcon HG cameras are well suited for applications in electronics inspection, semiconductor inspection, industrial metrology (gauging) and other machine vision applications.
These cameras use Teledyne DALSA CMOS technology for low power consumption enabling them to be compliant with Power over Camera Link (PoCL) standards. Thus, your cabling needs are simplified and your camera costs are lowered because you only need one compact mini-CameraLink interface cable to provide power and obtain images from the camera.
Fully programmable, these cameras incorporate exposure control, gain and offset adjustment, and flat-field correction to optimize system performance. Delivered in a robust, compact body, this camera should be your definitive choice for area-based systems.
FEATURES
VGA, 300 fps
High responsivity
Global shutter and reset
Exposure control
Concurrent integration and readout
Flat field correction
Faster frame rates through vertical windowing
Base Mini-Camera Link
10 meter transmission @ 80 MHz
Power Over Camera Link (PoCL)
Flat field correction
Adjustable timing modes
Adjustable gain and offset
Test patterns and camera diagnostics
Resolution: 640 (H) x 480 (V)
Data Rate: 2 x 80 MHz
Max. Line/Frame Rate: 300 fps
Pixel Size: 7.4 µm
Data Format: 8 bits only
Output: Base mini-Camera Link. PoCL compatible
Lens Mount: C-mount
Responsivity: 30 DN/(nJ/cm̴_)
Dynamic Range: 50 dB
Nominal Gain Range: 4x digital
Size: 44 x 44 x 44mm
Mass: <175 g
Operating Temp: 0 ̴å_C to 50 ̴å_C
Power Supply: 12V to 15V DC
Power Dissipation: <3 W
Regulatory Compliance: CE and RoHS
Control and Data: SDR26 mini-Camera Link
Power: Hirose 6 pin circular, or PoCL (shared with control)
Looking for Lenses, Cables or Lighting? Call (877) 422-3390
---
We Also Recommend