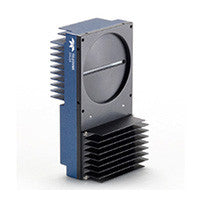 Need to Purchase Multiples? Call Us for a Custom Quote at (866) 339-4625
Piranha ES Mono 8k 68 kHz CL
The ES-80-08K40 is a member of the Piranha ES family-- Teledyne DALSA's latest generation of high sensitivity, TDI based cameras. The Piranha ES family provides cost-effective high performance solutions for low light imaging with large resolutions and unmatched throughput.
High sensitivity. High speed.
The 8K models deliver line rates up to 34 kHz/68.6 kHz and a throughputs up to 320 MHz/640 MHz. Camera configuration is extremely flexible and the number of Camera Link taps, throughput, and line rate are all software controlled.
These cameras are capable of bidirectionality with up to 32 stages of selectability, while preventing overexposure with Teledyne DALSA's proven 100x antiblooming.
If you need maximum performance in low light, you need to look at a Piranha ES.
Line rates up to 34 kHz/68.6 kHz
Up to 320 MHz/640 MHz throughput
Bidirectional
Selectable TDI or area mode operation
Stage selectablity up to 32stages
100x antiblooming
Camera Link interface
RoHS compliant
Looking for Lenses, Cables or Lighting? Call (877) 422-3390
---
We Also Recommend